How to Shop at Athena Gaia
A guide for our customers and friends for finding and buying jewelry on our site

You are the most important person here so yes; you can always talk to a human!

If you have questions prior to or after your purchase just click the blue button above
(it's also in the bottom-right corner of your screen wherever you go on our site).
This will open a chat session in Facebook Messenger where you can talk directly to Pete & Joanne .
You may also call or text us at +1 (862) 222-0442 or e-mail us via the contact us page.

Finding what you want starts at the top!
There are over 1,000 items in Athena's and 60,000 ways to customize them. Our top navigation will help you find what you are looking for quickly, but we have a few options that deserve explanation:
"In-Stock/Sale Items": Most of the pieces we offer need to be made to your specifications once purchased and can therefor take a few weeks to deliver. So for folks in a hurry we offer a collection of in-stock items that can be shipped immediately!
"Moods": We're blessed to be involved with beautiful products from a beautiful place. With "Moods" our goal is to bring it all together in an inspirational way. It's also a replacement to the idea of "collections" which we've always thought was kind of a restrictive notion.
"New Jewelry": If you drop by our site once or twice a month ... this is your spot! Here we just list off the entire catalog but sort it so that the most recent additions show up first.
Inspecting a Piece Part 1: Choosing stones and sizes
For ring sizes we have a drop down selection for you to specify your size (on the U.S. scale). If you don't know your ring size, or the US equivalent, then you can refer to the Ring Size Guide. (or … contact us and we'll figure it out for you!)
For bracelets you may see a similar drop-down selection … but even if you don't it's worth contacting us first. Some bracelets can be resized … but only in specific ways so we don't have pre-defined selections.Stone choices are a whole different story!
For stones ... things can get a little strange :-). We used to think it was possible to show everything in drop-down options, but our designers can make so many alterations to so many pieces that it's difficult to keep up with. So my advice: If there is a drop-down selection available you can use it … but if not please contact us! We honestly love helping and hearing about what you want and why :-)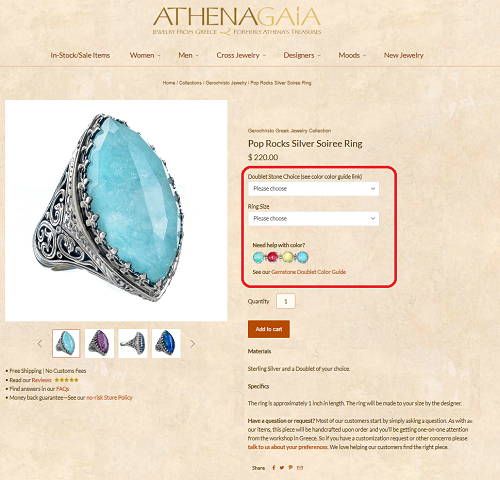 Inspecting a Piece Part 2: What is it made from?
For each listing you will find 2 sections beneath the "Add to cart" button. They are:
"Materials"
This is where the metals and gemstones in use will be stated. If the piece has even a tiny amount of silver or gold, we will mention it here along with the purity level of each metal.
Stones options may also be mentioned here, but stone availability is never an exact science so it's very difficult to keep stone options up to date. Contacting us prior to purchase is the best way to make sure your choices are available.
"Specifics"
Where the dimensions of the piece will be stated.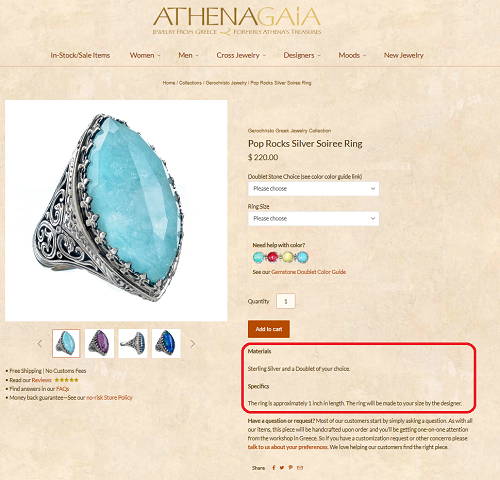 As a final way of telling us what you need you can use the "Special Instructions" box on the check-out page. Other than that; Here is how things usually happen:

Step one; Customer finds what they are looking for but just wants to make sure they can get the right size or stones ... so:


40% use the "contact us" link at the bottom of the screen
30% call us on he phone and ask
25% use Facebook Messenger (mentioned at the top of this page)
5% write everything in the special instructions box

When ordering:
60% just use the checkout process (like you would with Amazon)
40% call us and do the whole thing over the phone.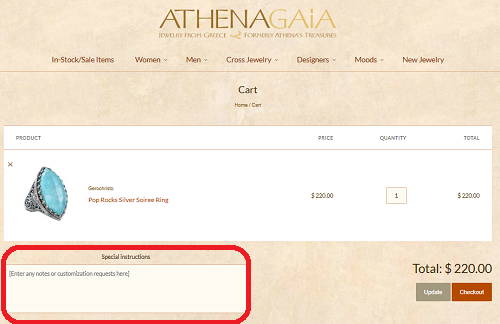 Additional Information and Help: