Introducing
Inna Orlik | Artist
Introducing
Inna Orlik | Artist
To be "art"; it just needs to provoke some feelings. It needs to lift me from the hole I'm in, and let me escape "me" for a while. This is especially true in times of hardship, when loneliness, fear and anguish wear at my soul. But hard times also present opportunities for renewal. Just as nature abhors a vacuum, creativity abhors the silence of desperation.
Art starts as a restless itch and ends in a rebellion against the things that have trapped us.
"Art" once happened to me while pedaling my bicycle through Athens.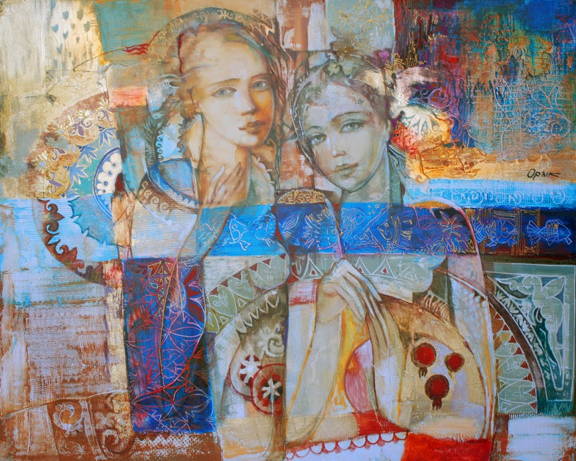 I was passing by a gallery in Monasteraki when I saw two girls looking at me.

Perhaps they were assessing my choice of transit on a rainy winter day. In a moment they would be back to their conversation, forgetting me as fast as they noticed me.

Their expressions had caught my eye, but it was the textures, translucence and incessant barrage of sub-characters, and story lines that held me.

It was provocative and packed with adventure, but tranquil and captivating. It was packed with value ... the perfect salve to soothe a restless heart.
Peter Bradley
Founding Partner, Athena Gaia
"To stand in front of an Orlik is more than a "viewing", it is a "sensation" inspired by a sprawling depth of spirituality, and the currents of history, imagination and dreams. From myths that survive over time and those images of reverie which turn an often-crushing reality into a bearable and almost poetic one.
Whoever stands in front of Orlik's paintings sinks, almost unconsciously, into a world of magic where miracles can happen at anytime."
Manos Stefanidis
Professor of History and Arts, University of Athens