Welcome to the Athena Gaia Treasure Hunt!
Starting January 4th we will be issuing a challenge every Monday. The challenges will be announced in our newsletter (you can subscribe at the bottom of this page) and fully described on this page. If you are the first to accurately answer a challenge, you will receive a $250 gift card to our store. Be sure to read the contest rules at the bottom of this page, and good luck!
Challenge #1 "I see" will remain in place until it's answered, and we may give more clues as time goes by
Challenge: Be the first to answer:
Question: Where is Giorgo's duck from?
Winner: "Jerry B" of Cisco Texas @ 12:34pm on Monday, March 22
Jerry's Answer: Hungary (see video on the Damaskos page)

Challenge: Find Islands
Instructions: Find photos or mentions of islands on our site
The Winner is the person who named to most island on our site: "Diana L" of Maryland
Diana's Answer:
Santorini Ring, Santorini Earrings, Santorini Chain Bracelet, The Santorini Charm, Santorini Wire Drop Earrings, Mini Santorini Pomme Cross, Thira Santorini Pomme Cross, Santorini Hinge Open Bracelet, The Santorini Pomme Cross, The Santorini Charm Bracelet, Santorini Pearl Sided Hinge Open Bracelet, Square Mykonos Earrings, Square Mykonos Charm, Navigation Mykonos Pendant, Mykonos Origin Pendant, Octagon Mykonos Charm, Tetragano Mykonos Charm, Oval Mykonos Charm, Diamond Rosette Mykonos Charm, Large Mykonos Charm, Diamond Navigation Mykonos Ring, The Corfu Charm Bracelet, Geochristo Maltese in Maltese Cross, Maltese Cross, Mini Maltese Cross, Eastern Maltese Cross, Maltese Stone Cross, Round Maltese Cufflinks, Silver Eastern Maltese Cross, Maltese Long Cross Ring, Maltese Cross Band Ring, Diamond Maltese Cross Ring, Squared Maltese Cross Cufflinks, Maltese Cross Band Ring, Oval Maltese Cross Cufflinks, Mini Maltese Cross Locket, Maltese Stone Silver Cross, Geochristo Silver Filigree Maltese Cross, Geochristo Filigree Maltese Cross Earrings, Mini Maltese Stone Silver Cross, Ruby Maltese Cross Band Ring, Diamond Maltese Cross Band Ring, Maltese Cross Garden Shadows Ring, Garden Shadows Maltese Cross Cufflinks, Oval Maltese Sterling Silver Cufflinks, Round Maltese Sterling Silver Cufflinks, Gold Sided Diamond Maltese Cross Ring, Diamond Field Maltese Cross Band Ring, Ruby Field Maltese Cross Band Ring, Garden Shadows Maltese Gold Cross Cufflinks, Maltese Cross Garden Shadows Sterling Silver Ring, Garden Shadows Maltese Sterling Silver Cross Cufflinks, Cyclades Oval Ring, Octagon Cyclades Bracelet, Cyclades Navigation Earrings, Oval Cyclades Earrings, Cyclades Octagon Earrings, Cyclades Circle Earrings, Cyclades Square Earrings, Cyclades Black Gold Ring, Cyclades Faith Navigation Ring, Cyclades Square Hinge Open Bracelet, Cyclades Circle Hinge Open Bracelet, Garden Shadows Scroll Sided Cyclades Earrings, Amanatidis Kephalonia Pendant with Necklace, Al'Oro Singapore Chain
wow!
Challenge: Find the piece
Hint: I'm Hanging with Dolphins
The Winner: "Vicki N" of Maryland won with a response submitted on Tuesday at 1:28pm.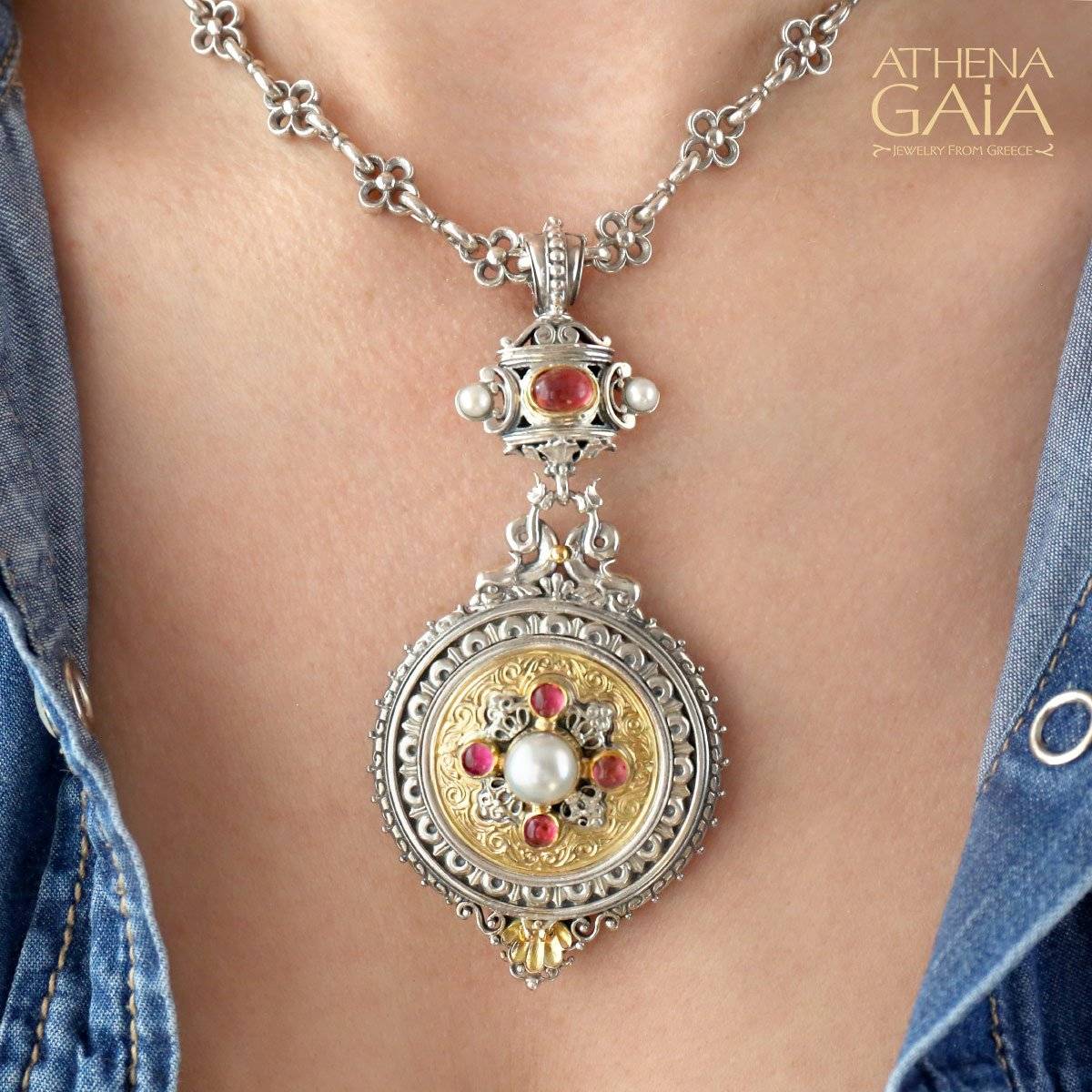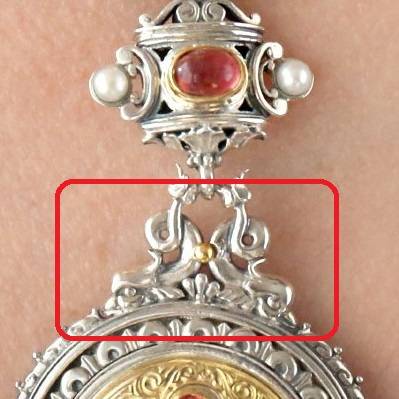 The large part of the medallion is hanging with dolphins (circled in red)
Granted; these are strange looking dolphins; the heads (for me) are the only thing that identifies them as such, but the Gerochristos confirmed.
This challenge was actually designed to go into extra innings (more weeks) and require additional hints because the piece offers so much to look at. It only did get one correct answer so we were partly right. Well done Vicki!
Challenge: Find a piece or two!
Hint: My bezel has 6 of its own
Winner: Shannon A. of Florida @ 8:48pm on February 15th
The Summer Nights and Summer Haze pendants by Damaskos are amazing in a number of ways. Resembling a fireworks display in gold, diamonds and rubies they are a tour-de-force of Damaskos design work.
One of the most interesting things about them is the amount of design work on the central bezels themselves which include plenty of granulation as well as 6 additional bezels for 6 additional diamonds.
Hence: "My bezel has 6 of it's own"
Challenge: Find Ice Cream on our site!
The Winner: Catherine M. of Atlanta, GA @ 11:39pm on January 26th

The Answer:
There are 3 references to ice cream on our site: The first two are the words "ice cream" that appear on the street scene in the top banner of Yianni's page. We had posted advice to use a desktop or laptop because on a phone this image doesn't appear at full width. The other is a little boy enjoying some ice cream on our "Our Story" page.

The challenge was: Give the names of as many pieces that you can find that are related to in the hint.
The hint was: I am the king who ended Christians as thousands watched; but I started many more.
The winner was: Maria E. from Santa Cruz, CA @ 4:30pm on January 24
The Answer:
The lion (the king of the jungle), ended many Christians in the Colosseum as thousands of spectators watched, but their martyrdom inspired others to become Christians.
At first I thought the answer was a Roman emperor, like Nero, but I don't see jewelry related to him.
Here are three pieces with lions:
The challenge was: Find the piece first!
The hint was: My heart overlooked the second Rome yet part of me did not.
The winner was: Shannon from central Florida @ 2:55PM Monday the 11th
Runners Up: If you also answered this question correctly - keep playing future challenges. If you get multiple "runner's up" we'll definitely get you a prize (to be determined later)!
Constantinople was referred to as the "Second Rome" and it's tallest structure for hundreds of years was the Hagia Sofia which is a Byzantine era church and UNESCO World Heritage Site.
"Hagia Sofia" can be translated as "the Alter of Wisdom." In Greek "Agia" means "alter". "Sofia" was originally an ancient goddess of wisdom, but was later adapted by the Gnostics as the feminine representation for the part of God that brings forth wisdom. If you find this interesting, you'll also like our
page on the history of the cross
.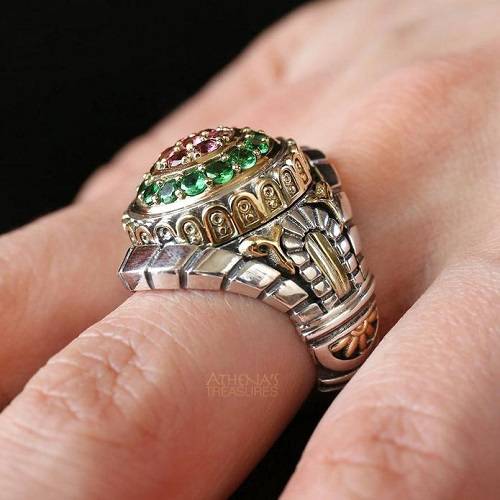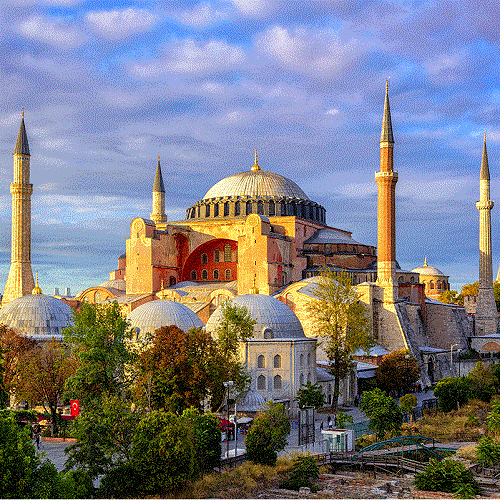 Eventually the Ottomans took over Constantinople and renamed it "Istanbul". They surrounded the church with 4 minarets but kept the name "Hagia Sofia" ("Sofia" as a term gets morphed again).

So: The "heart" of the church (the nave and alter) did "overlook the second Rome" when built, but by the time the minarets came along, the "Second Rome" was gone so "parts of me did not".

We have only one piece in our store named for the Hagia Sophia. On the ring (shown above), you'll see little arched windows supporting the dome, the same doors on the side, and silver work depicting the building bocks.
Fun Fact:
The Roman Empire effectively lasted from it's founding in 750BC to the Ottoman capture of Constantinople in 1453 AD making it one of the longest lasting empires in history (2200 years). That's about 3,000 years less than the Greek jewelry industry. You saw that coming, right? :-)
1/4/21
UNSOLVED
Feel free to guess again!
Challenge:
How many animals and people do you see in the painting "I See" by Inna Orlik?
List and name each one.
Your answer should be in this format: "Total: 10 (1 woman, 1 boy, 1 panther, 2 sharks, etc.)" (these are just examples)
Special Instructions:
When answering this challenge please choose "Challenge #1 (I See)" in the Answer Submission Form.

The head of the animal/person/god must be visible in order to be counted.
Hints & Tips:
Did you only find 5 animals? (keep going - there's more!)

The advantage goes to desktop users on this one. Open the product page and then click on the photo to enlarge it.

Only a small portion is shown here — Click to view the full painting

Be sure to read the contest rules (on this page) before responding
Athena Gaia Treasure Hunt
The Athena Gaia Treasure hunt is comprised of a series of challenges staged through the months of January and February, 2021. Every Monday a new challenge will begin. An e-mail will be sent to our newsletter subscribers to announce and explain the week's challenge. The information will also be posted on our blog page (Athena's Blog — Athena Gaia).
Typically, the challenge will be to find something on our site. If you are the first to answer the challenge correctly you will receive a $250 gift card towards your next purchase at Athena Gaia. All of the information you need to answer a challenge correctly will be somewhere on our website.
Be the first person to correctly and completely answer the weekly challenge and you will receive a $250 credit towards your next purchase at Athena Gaia. The credit will be issued in addition to any sales we currently offer.
Your answer must be complete and correct (if the challenge is to find 5 things – and you've only found 4 - don't answer yet because it will be rejected).
The weekly challenge is active until it is won. If a challenge goes unanswered it will roll-over into the following week(s). This may produce situations where 2 or more challenges are running concurrently.
On the Saturday following the Monday when the challenge started we will open the e-mails in the order that they have been received – the first one that is correct will be declared the winner, that person will be notified and the answer will be posted on the blog page as well as in the following newsletter. If there are no winners we will repeat the process the following Saturday for that challenge, as well as any subsequent ones.
Challenges start every Monday from January 4 thru February 22, 2021.
The winner for each challenge is determined as the first response with correct answers submitted via the contest's response page.
One (1) winner per challenge for a total of eight (8) challenges.
Athena Gaia will contact weekly winners by email or phone.
One (1) Winner per weekly Contest receives an electronic gift card to athenagaia.com with a retail value of $250. Electronic gift cards are kept on file and do not expire.
All entries must be submitted via the "Answer Submission Form" on the Treasure Hunt page (The Hunt — Athena Gaia). All fields are required, but on 2 special notes:
Be sure to choose the correct Challenge # on the submission form when submitting your answer.



We will not accept answers from the employees, family or friends of Athena Gaia or any of our designers.

No purchase necessary. The contest is open to customers and non-customers alike. You do not need to purchase anything to participate in the contest, and having done so will not entitle you to preferential treatment from the contest organizers.
Release and Limitations of Liability:
By entering, entrant agrees to release Athena Gaia from and against any claim or cause of action arising out of Entrant's participation in the Contest or receipt of use of any prize, including but not limited to: (a) technical errors (b) website connection errors (c) errors in the administration of the Contest. Entrant waives the right to claim any attorneys' fees and any damages whatsoever, including, but not limited to, punitive, consequential, direct, or indirect damages.
Entrant agrees that any and all disputes, claims and causes of action arising out of, or connected with, the Contest or any prize awarded shall be resolved individually, without resort to any form of class action, and exclusively by the appropriate court located in New Jersey. All issues and questions concerning the construction, validity, interpretation, and enforceability of these Official Rules, entrant's rights and obligations shall be governed by, and construed in accordance with, the laws of New Jersey, without giving effect to any choice of law or conflict of law rules, which would cause the application of the laws any jurisdiction other than New Jersey.