What People Are Saying About Athena Gaia
Dear Pete and Joanne:
My husband bought this pendant and chain as a Christmas present, and I couldn't be happier! The Amazonite Doublet just luminates and I have gotten many compliments on Gerochristo's amazing artistry and style. We look forward to adding even more pieces to my collection!

Once again, THANK YOU Pete and Joanne for making the world just that more beautiful with superior quality jewelry!
Melanie J - Georgia
Gerochristo: Pop Rocks Megali Droppa Pendant
Yianni: Heavy Silver Loop Chain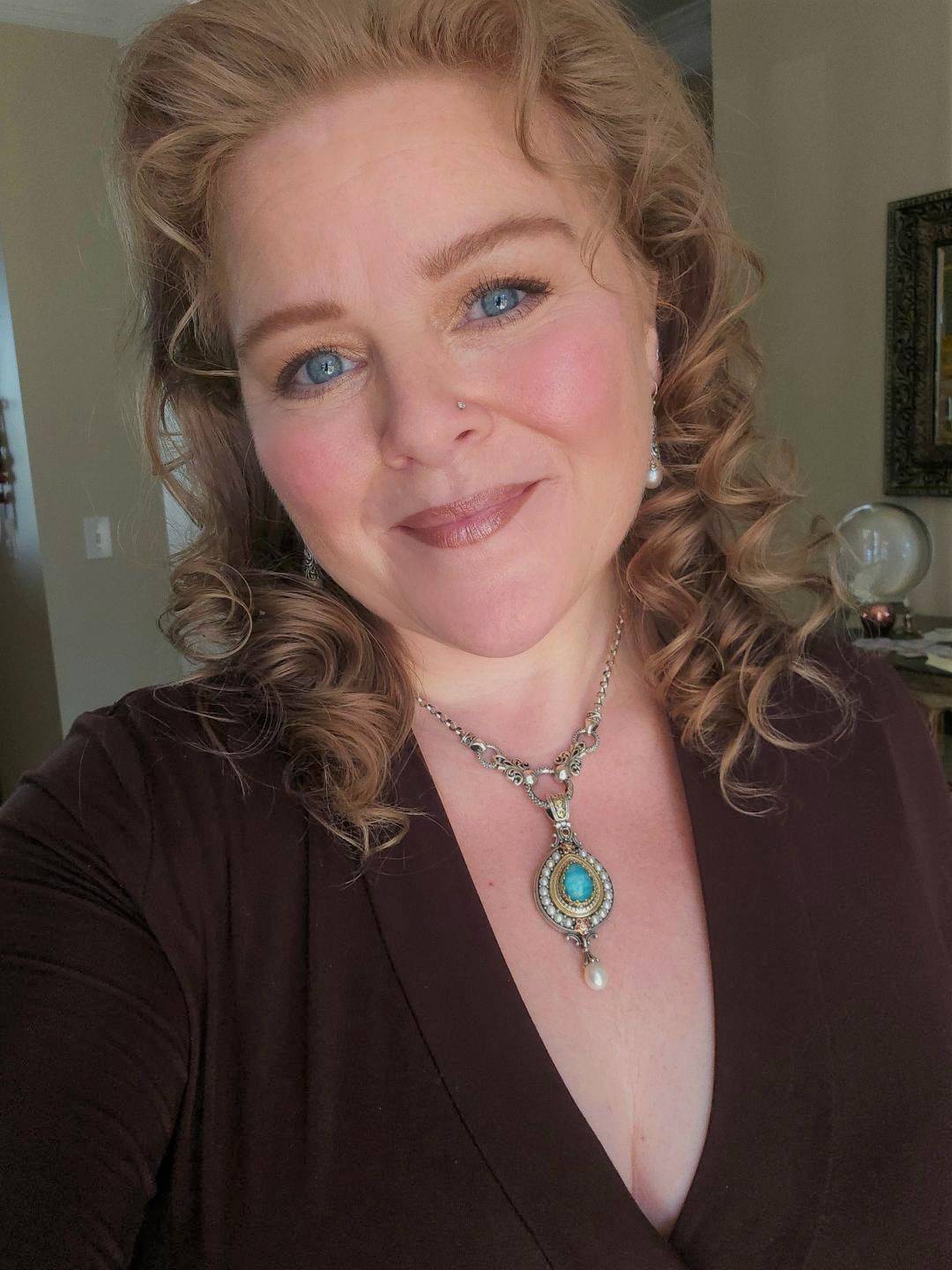 An Exceptional Experience
EXQUISITE. I treated myself to the Gerochristo Greek Eastern Cross (blue zircon) and it is a breathtaking piece. It was packaged very securely and came with a polishing cloth and Certificate of Authenticity. Joanne and Pete were diligent with progress emails. I appreciated that attention to detail. The cross is ornate, substantial in weight, and beautifully unique. I can't wait to wear it and give Athena Gaia the recognition and accolades they so deserve. Gerochristo is a master at his craft.
Lisa
✓ verified purchase:
Stunning
The workmanship is wonderful and the weight of my products is well worth my wait to obtain my items and what I paid. Absolutely beautiful and something that can be passed onto many generations
Robin
✓ verified purchase:
Zelda Evil Eye Earrings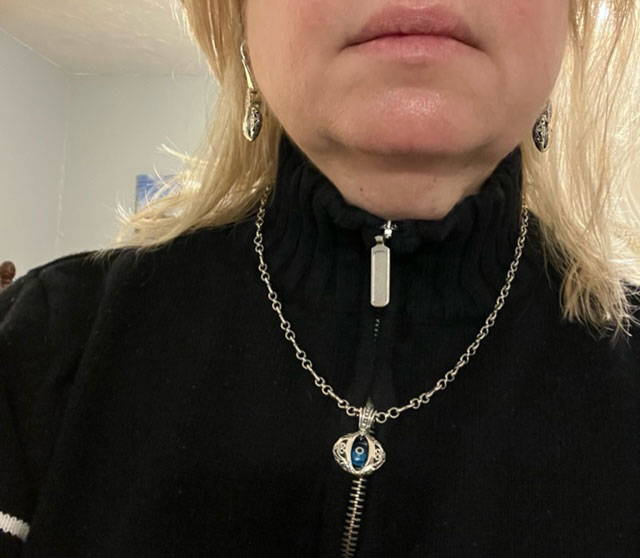 They did what seems impossible
They got me a ring for my wife's birthday within a month- meaning made and shipped from Greece- and I had it with a few days to spare. They went above and beyond and I would happily shop with them again. Thanks!
David S
✓ verified purchase:
Very happy with the ring. Good workmanship and just beautiful! Would shop here again, definitely.
Todd A

✓ verified purchase:
Ring arrived yesterday evening! Stunning!!!! We love it!!! Thank you so much for all you did to get us this ring!!! We are so happy and thrilled with the ring!!! It's just beautiful! Sorry, too many exclamation points😂😂😂😂😂😂😂😂😂😂😂
KC
✓ verified purchase
Hi, Joanne and Pete!
All I can say is WOW and OMG! This ring is absolutely gorgeous and has phenomenal detail. I'm attaching some pics so you can see how wonderful it looks. I am soooo glad I decided on 7 1/4. It fits perfectly.
Thank you so much and I wish you a wonderful holiday season! (Mine is already great! 😊)
Sue O.
✓ verified purchase: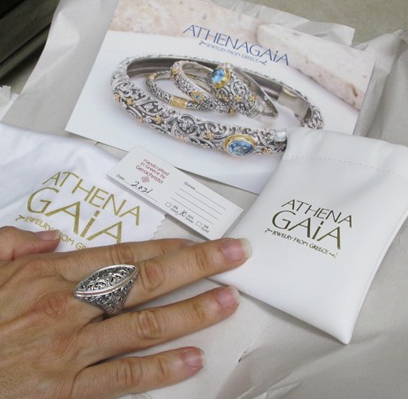 My mom was thrilled with the arrival of the new cross. It's an amazing new addition to her collection and we couldn't be happier with it. She is a big fan of Damaskos work. His craftsmanship is beautiful.
We look forward to making more purchases in the future God willing. Here is a couple of photos of my mom wearing the chain with the cross we recently bought.
Keep up the good work. God bless you!
Victor N

✓ verified purchase:
Squared Imperial Orthodox Cross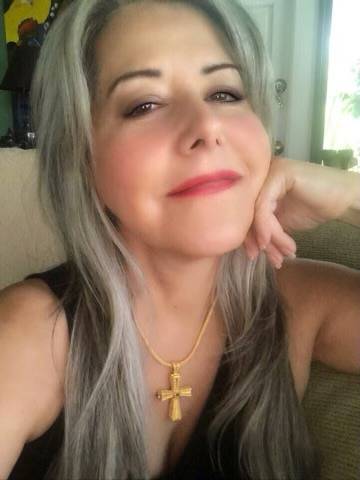 I just wanted to let you know the Meadow Breeze Ring and Accent Band I ordered arrived. The delicate detail on each piece is breathtaking and just exactly perfect! I can't begin to comprehend the level of skill your artists must have to make such beautiful, unique treasures.
Thank you and Bravo!!!
Theresa R
✓ verified purchase:
I am thrilled with the craftsmanship. I mean, it is stunning!!! And, when you order something online, you can only HOPE the item matches the photos for advertising. Well, it surely did!! And if there's a place to brag on customer service, I need to add that it is superb!
Please do tell anyone who worked on it, how GRATEFUL I am. I will cherish it forever, and pass it on to my daughter one day (But not before I kick the bucket, 'cause I'm wearing this baby!!! 😂) Thank you so very much.
✓ verified purchase:

Diamond Block Small Braided Ring
I recently ordered the Silver Convex Cross with the Byzantine Chain from Athena Gaia and I am totally blown away with the detail and workmanship it surpassed all my expectations. Pete and Joanne answered all my questions before ordering with such professionalism. I will surely be ordering again.
Vasiliki
✓ verified purchase: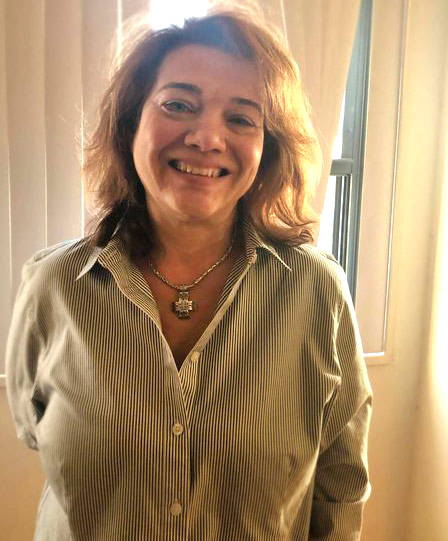 Absolutely stunning. Such fine detail. Love these earrings!! Packaged beautifully and also packaged well for postage. I absolutely love Gerochristo jewellery!!
Becca E
✓ verified purchase

Good afternoon Pete & Joanne
my necklace arrived yesterday & I absolutely love it! It's beautifully made and the chain is sparkly. I love the eye and the cross, I hope they both bring me good luck when I am wearing it! I loved the super speedy delivery, which was a pleasant surprise! I hope you are both doing well and are enjoying a bit of the less humid weather we have been having. Joanne, I hope your Mom's recovery is going well after her surgery. Well, until my next purchase I hope you both take care!
Sue L
✓ verified purchase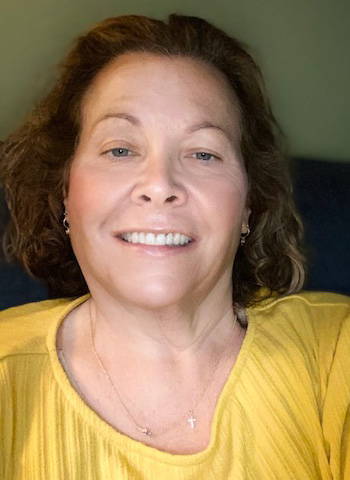 I received the cross and chain about an hour ago. My wife loves them!!!She loves the chain, the thickness of cross and its intricate design. Her exact words were " it's a beautiful piece of artwork!" Then of course she said I can buy her more jewelry from you anytime! Thank you so much!
Darryl and Jenny M
✓ verified purchase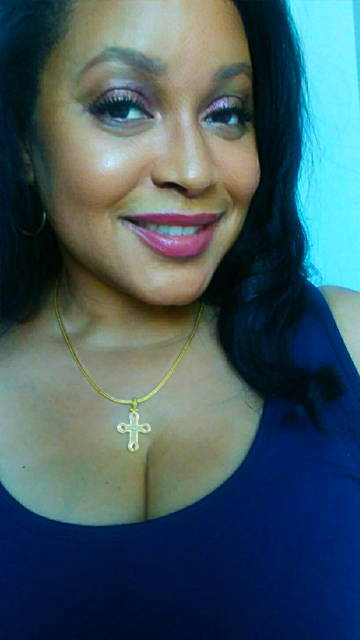 Hi Joanne and Pete!
Ring Received~ What an amazing ring! The gold color is so rich and the design work is beautiful. I love wearing jewelry that I do not expect to see on others. This piece is like owning a piece of history. Museum quality! I can't say enough. Looking forward to my next "gold" purchase.
FYI - Loved the video with the little church and the Damaskos work shop in Athens. It gave me insight to the design on the ring, craftsmanship, pride, and love the Greek workers have for their craft. Keep it coming!!!!
All my best,
Linda from Long Beach, NY
✓ verified purchase

The cross arrived this morning! It's lovely - thank you!I am delighted with its beauty and craftsmanship and your customer service.May God bless and protect you always!
BJ
✓ verified purchase

I recently received a beautiful Gerochristo bracelet from the Garden Shadows collection and couldn't be happier. I wasn't sure what size to order but Pete and Joanne were very conscientious and accessible in helping with my decision.Thank you for such a lovely bracelet and buying experience. I look forward to my next Athena Gaia piece.
Jennifer C
I have purchased Konstantino pieces in the past at Neiman Marcus and on eBay. I came across your site, and decided to try it - your selection of pieces is beautiful.
So, I ordered the ring. Thank you for the coupon, I will use it to treat myself to another purchase.
Patricia
✓ verified purchase

My order arrived yesterday and I am thrilled. Quality and design beyond my expectations. A memory of my trip to Greece and an heirloom to pass down. Thank you.
Janna

✓ verified purchase

What a fabulous and remarkable ring! Please give my regards to the jeweler in Greece. [My wife] absolutely loves this ring. You guys have come through once again for me!

James S
✓ verified purchase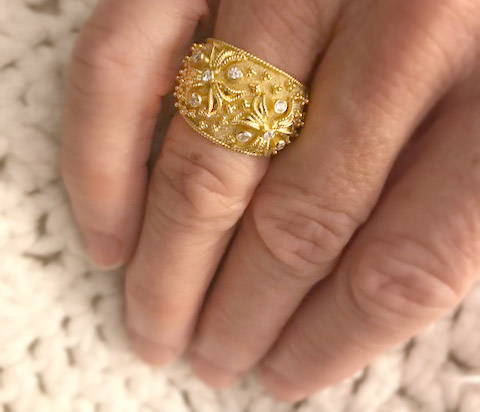 I've been enamored with the beautiful jewelry from Athena's Treasures for many years. The exotic nature of the jewelry itself along with being custom made by hand in Greece lends to its mystique. The quality is superior and the detailing is superb. Treat yourself to an heirloom from Athena's and prepare to have your breath taken away. 💙

Elaine P
✓ verified purchase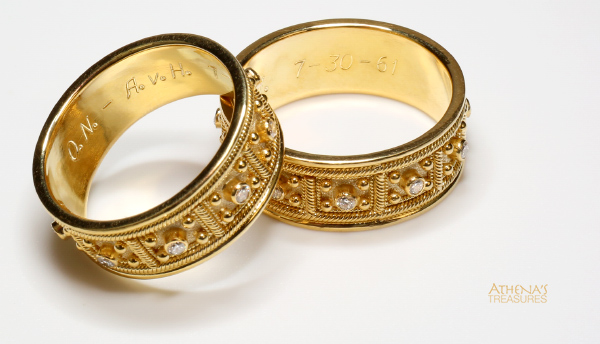 When I was planning to marry, I did not have much money, and the small New England town I lived in had one jewelry store with a very limited selection of basic American style, unimaginative type 14K rings, so I purchased two rings. We are both originally from Europe, where 18K gold is standard, and for years I have been saddened that I was unable to provide higher quality and more attractive rings for us, as well as in 18K. A week ago, [my wife] stumbled onto the Athena's Treasures web site, and we both saw jewelry that blew our minds. Incredibly artistic, and superb quality. Simply the most attractive rings we have seen, except perhaps, in museums. Then all we needed was an excuse to buy something nice from you, and I thought it would be appropriate to re-affirm our marriage vows and, in the process, replace our simple and well worn rings for two very fine rings that we found on your web site.

AVH
✓ verified purchase

Dear Pete and Joanne:
I want to personally thank you for going out of your way to special order a bracelet I've been searching for ever since I went to Greece in 2019. I wanted to make sure the stones were the exact color of the Aegean Sea. Our phone call and the subsequent photos you sent me of various gems gave me the opportunity to choose the exact color I remember seeing. Such personalized customer service is extremely rare, so I truly appreciate all of your time and effort. Your passion and enthusiasm for what you do is evident and admirable. The handmade quality of the bracelet is impeccable, from the exquisite curved Byzantine clasp to the perfectly matching colored doublets. When I wear the bracelet, I'll not only have fond memories of our time in Greece, but I'll also fondly remember the effort you made to make this purchase special for my husband and me. We're going to Greece again this summer; I'm sure I'll be calling you after the trip for another purchase! Blessings to you both for continued success!
Kind regards,
Dave and Brenda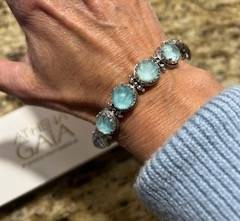 Pete, THANK YOU! It was a success!!!!
Jeff S
✓ verified purchase: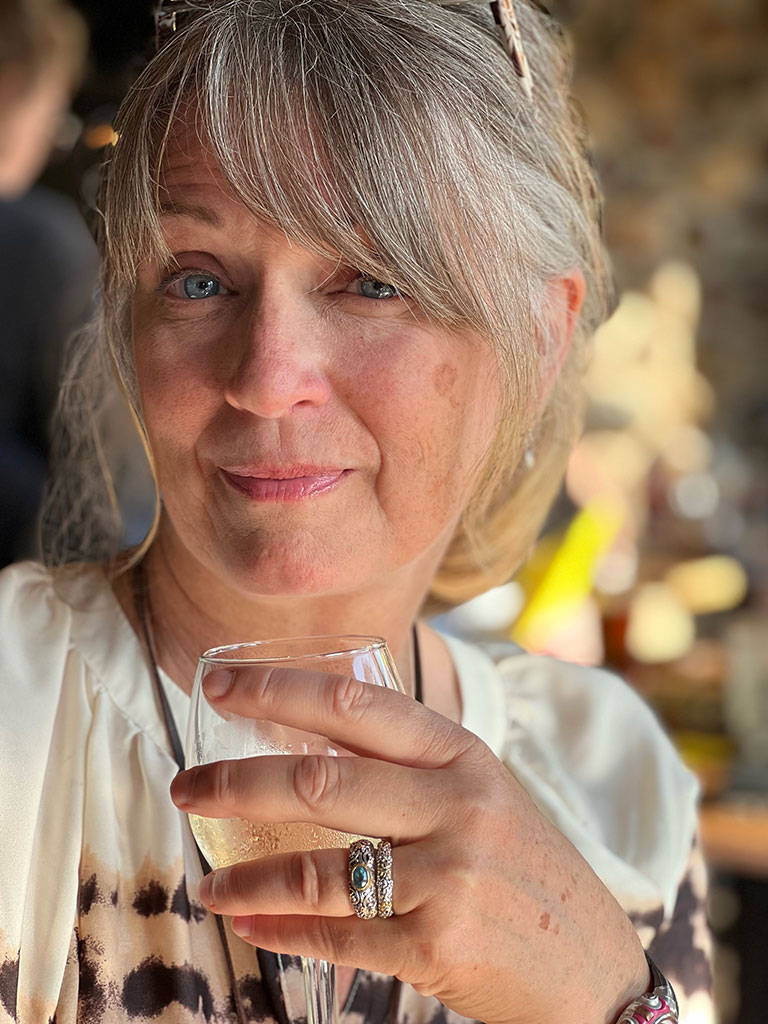 I LOVE LOVE LOVE my Gerochristo jewelry collection. I am so grateful to the excellent customer service I received from Joanne and Pete. Because of their patience, and knowledge they were able to provide me with alternatives to the original gift necklace my husband gave me, so that I could enjoy wearing it. Of course because of this I had to have more, and thus acquired the Garden Shadows Kyklos earrings and the beautiful Pop Rocks Synergy Border Pendant with a Sterling Silver Double Loop Chain to complete the look. The jewelry is not only artistic and unusual, but the quality is outstanding!
Due to my experience with Athena Gaia I now have a problem, as I will probably need to purchase more items in the future. 😊 Once again thank you Joanne and Pete for your understanding and attention to please your customer!

Cheryl F
✓ verified purchase:

Garden Shadows Kyklos Earrings
Pop Rocks Synergy Border Pendant
I received the bracelet, it's really, really, really nice. I am also impressed with the quality; I am going to purchase another one later this summer to wear together. Also, I now have a site for all of my gift giving. Thanks again, regards
"The cross and chain arrived today, thank you. The cross is just as beautiful as I expected which is fantastic but I had no real conception of how nice the chain would be, amazing. The chain on its own is a magnificent piece of work. Thanks again, see you down the road-Christmas is coming up.
—JHB
✓ verified purchase

Thanks. Very pleased with my ring. Will order from you again.
Sharlene

✓ verified purchase:
I have ordered 3 pieces from Athena Gaia in both silver and gold. Each piece is a beautiful work of art! You simply can not compare these pieces to the "cookie cutter" pieces that you can find in the mall. Also, the customer service is personal and exceptional! I highly recommend!
Diana L
✓ verified purchase

Yes i received it, it was perfect fit with my 18kt. Bracelet that i hardly wear, because i didn't have a ring that would complement the exquisite workmanship.
But this beautiful 🧡 Diamond Band made it Justice. Enclosed is a picture of it.❤️ Thank you guy's 🥰 have a Blessed Day🙏
Theresa R
✓ verified purchase: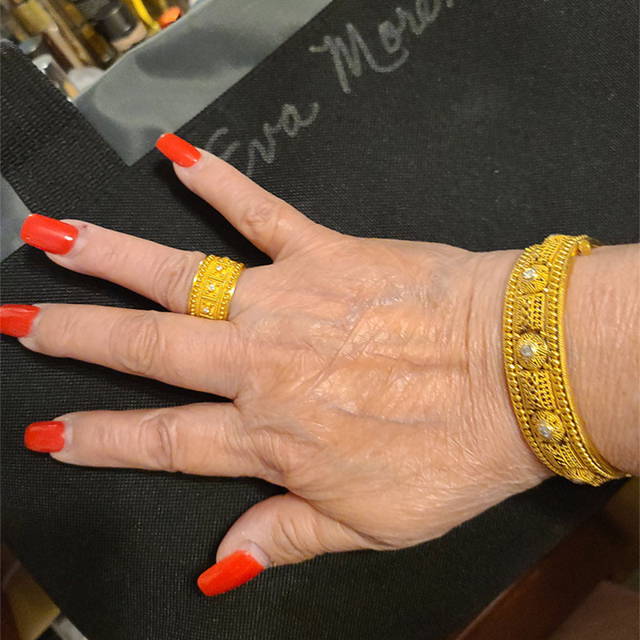 I left you a voice message this morning. I LOVE and am SO EXCITED over the ring! It's amazing better than I expected. I am totally in love with it and it matches two bracelets I have.
RLS
✓ verified purchase

Hi Pete and Joanne,
I really appreciate the way your company does business! I am always a little leery of shopping online, but you do exactly what you say you're going to do, which gives me a lot of confidence.
Long story, short - the daughter to whom I was gifting this cross stopped by my house shortly after I printed the return label. I showed it to her, and she immediately liked the cross. She decided she would like to keep it, so I am not returning it after all.
Thanks, again, for your immediate, no-hassle response.
Mina
✓ verified purchase

Hi Pete and Joanne- this is a photo of my daughter wearing the cross in faith necklace I purchased from you. She loves it! Thank you for having some beautiful pieces!
Elizabeth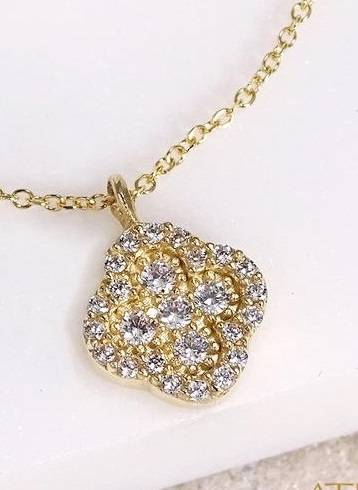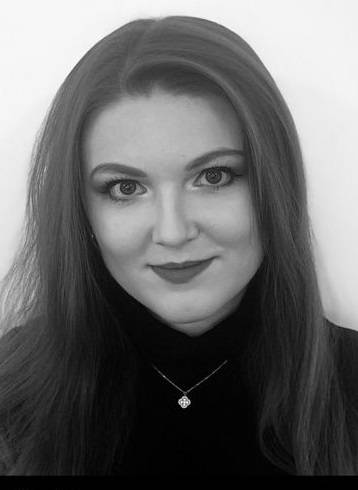 I was away for a few weeks and finally got my bracelet and pendant on Christmas day! I watched the instruction video on adding the charms to the Stone Arrow Chain. It answered my questions so please send an invoice for that as well!
Keep the video's coming, and get Joanne to do some too. It brings such wonderful color to what you are doing. Getting to speak with you both on the phone is one thing, but seeing the work in progress, hearing the real stories, and seeing the sites from Greece brings a whole new reality to your company and product.

I am a true believer that looks and personality open the doors, but the brains and actions before and after service are what makes the deals happen and keep coming. Both of your actions show, you already know this.Happy New Year 2020! again, and one of these days I will take a jump into the GOLD Pond..... :}

Linda S (7x return customer)
✓ verified purchase

Thank you, again, for exchanging the ring for the ruby one. And, I am so excited about the necklace and cross I ordered. I get soooooo many compliments on my rings!
Jerry K
✓ verified purchase

I have a lot of Konstantino pieces but the Gerochristo athenian ring caught my eye. Thank you for answering all of my questions about their working relationship. I am so happy I bought this! :)
Nancy C
✓ verified purchase

Hello Athena!I just wanted to let you know how thrilled I was to discover your website. Greek jewelry truly is an art and a rare one at that. Usually jewelry of this quality can only be found by those fortunate enough to be able to travel to Greece. Your website brings that artistry to an international audience. The quality of your offerings is unparalleled on the web. I look forward to receiving my order and sharing these "treasures" with my family and friends.Best of luck.

C.
email message
Bought a cross ring with stone. Was skeptical buying online but exceeded my expectations. Thank you

Athena Gaia is amazing. The piece we received was flawless and my mom couldn't be happier with her gift! On top of all that they offer a great value. Pete and Joanne were available to answer any questions and made it easy to customize the piece. The cross is fabulous and my mom loves it. We recommend it without reservations.
Victor N

✓ verified purchase: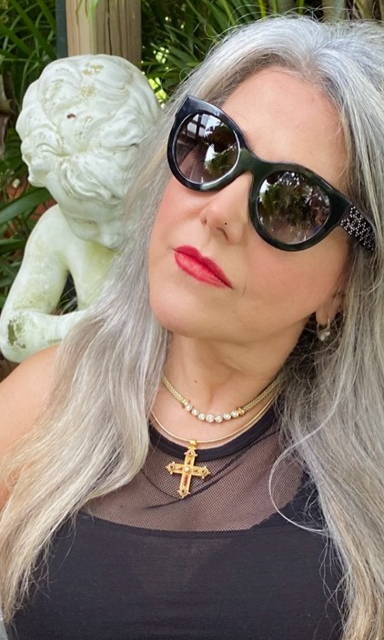 Love Athena's Treasures!!! Love all the new pieces which makes it so hard to choose from. Always prompt reliable service. Can't wait to wear my new doublet ring. Gerochristos is my all time favourite, always receive compliments for the pieces, they are beautiful. Keep up with the emails and FB alerts. Thank you Pete and Joanne xx

Elizabeth H.
Good morning, I just received my 3 items and I must say, absolutely gorgeous... Your quality is absolutely wonderful. Your packaging beautifully done. The ring is so comfortable, I just can't say enough. I have seen several websites selling jewelry made in Greece but have not really looked at their items.I will keep you on my list and hope we will be able to do more business in the future. Sincerely, Hanneke

✓ verified purchase

Received my bracelet and it is Perfect... Thank you ever so much and I so appreciate your effort in making my piece fit me so well... The safety catch is just right...Happy Mother's Day and I look forward to my next piece in 6 months... ❤️❤️❤️

Angela G
✓ verified purchase

I am fortunate enough to own a gorgeous aquamarine and gold ring from Athena's Treasures. It is one of my favorite pieces. The color of the aquamarine is truly sublime

Mary H
✓ verified purchase

My order arrived yesterday. I love the pieces, all of them; everything is over my expectations. I will enjoy wearing it.

Julia M
✓ verified purchase

Just received my cross... I love it! So beautiful, thank you so much!!

Vasi Z.
✓ verified purchase

I just received my beautiful ring that was made in Greece. If you have an opportunity to purchase a piece of jewelry from Athena's Treasures, I would highly recommend doing so. Peter & Joanne are very nice to work with & keep u posted on how your order is coming along. Thank u both!

Sue L
My favorite ring ever is from here. I wear it as art. So unique. And exceptional customer service from these guys to ensure I was making the right choice.

Art M
Hello, Joanne , Received the Damaskos ring. Superb workmanship and design, as anticipated. I had hoped that Damaskos would not take the cheaper alternative of mounting artificially created sapphires which are grown as perfect, chemically pure, clear as glass crystals, and are then cut and faceted by computer controlled robots. I was not disappointed. I inspected the sapphires with my stereoscopic microscope and found each had the traditional flaws found in natural sapphires- inclusions, crystal fractures, even microscopic gas bubbles trapped when the sapphires were still in liquid state. Further, I observed the irregular facet cuts, a sign of hand polishing by artisans, not numerically controlled machines. Of course, none of these characteristics are visible to the naked eye, and the sapphires are a delight as mounted on the ring.
One sapphire has sufficiently deep red color, and is clear, that it could be classified as a ruby. Finally, the ring was a fascinating blending of a silver underlying band and gold above, a novel design which I have not seen before. Another surprise was the gold cartouche applied to the silver, with Damaskos' name, and purity information. Really stands out against the silver, and worth showing off to fellow jewelry admirers.
Then there are the 24 tiny diamonds. All of excellent white color, not the I, J color grade found in medium priced engagement rings. I am impressed with the mounting of these tiny diamonds, probably using a 4 pronged miniature punch for each to deform the adjacent metal, while using a microscope? Even with a 5x jeweler's loop, Damaskos would have to have an incredibly steady hand and superb vision. Much more difficult than simply bending 4 prongs on a large 1 carat diamond ring.
Andre V.H.
✓ verified purchase

email to us after receiving the Diamond Columns Black Gold Band ring