Method 1:

Do you currently have a ring that fits the finger you are buying a ring for? If so we can get the size from that with a simple photograph like the photos below (with this type of photograph we are looking for the internal circumference of the ring
We will use that information to see where your finger lines up on the following chart (this method hasn't failed us yet)
Method 2:
If you do not have a ring that fits the intended finger ... DON'T Guess! The best thing to do is visit a local jewelry store and simply ask for help, they are usually very happy to help.
Method 3:
If you are nowhere close to a jewelry store the next best thing is to order a ring size kit from Amazon (at the time we're writing this the average price was $6 - so no worries.

... also:
If the ring you are ordering is 1/2 inch or more wide on the palm side, we may want to add a 1/4 or 1/2 size to your measurement. Ordering a larger size allows the ring to fit over the knuckle.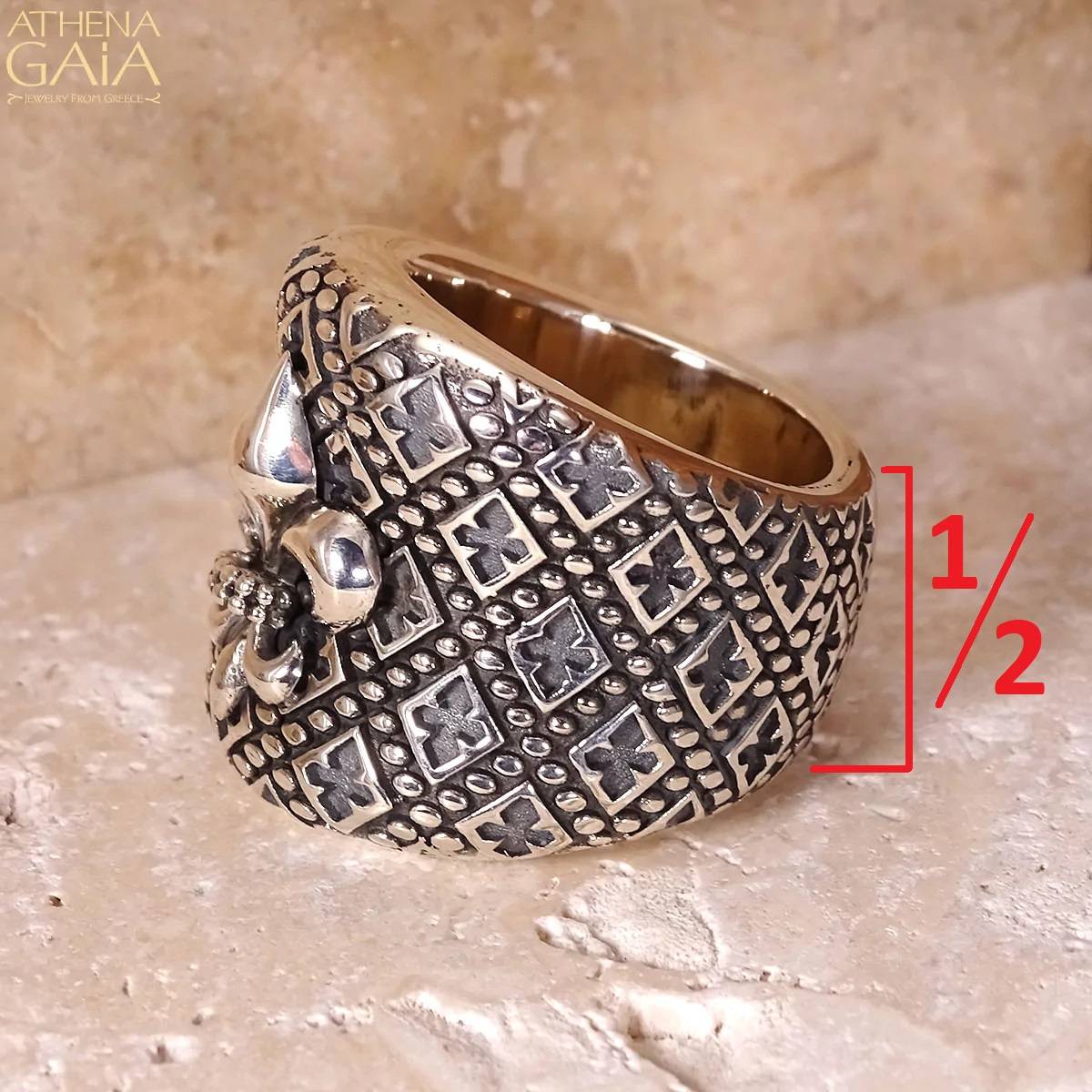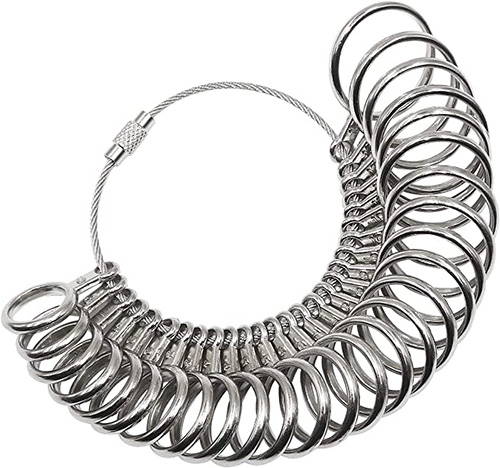 Inside Diameter
Inside Circumference
Sizes
MM
Inches
MM
Inches
British & Australian
US & Canada
French & Russian
German
Japanese
Swiss
9.91
0.390
31.13
1.22
-
0000
-
-
-
-
10.72
0.442
33.68
1.39
-
00
-
-
-
-
11.53
0.454
36.22
1.43
-
0
-
-
-
-
11.95
0.474
37.54
1.25
A
1/2
-
-
-
-
12.18
0.482
38.26
1.51
A 1/2
3/4
-
-
-
-
12.37
0.487
38.86
1.53
B
1
-
-
1
-
12.60
0.256
39.58
1.56
B 1/2
1 1/4
-
-
-
-
12.78
0.253
40.15
1.58
C
1 1/2
-
-
-
-
13.00
0.512
40.84
1.61
C 1/2
1 3/4
-
-
-
-
13.21
0.520
41.25
1.63
D
2
41 1/2
13 1/2
2
1 1/2
13.41
0.528
42.13
1.66
D 1/2
2 1/4
-
-
-
-
13.61
0.536
42.76
1.68
E
2 1/2
42 3/4
13 3/4
3
2 3/4
13.83
0.544
43.45
1.71
E 1/2
2 3/4
-
-
-
-
14.05
0.553
44.14
1.74
F
3
44
14
4
4
14.15
0.557
44.45
1.75
F 1/2
3 1/8
-
-
-
-
14.25
0.561
44.77
1.76
F 3/4
3 1/4
-
-
-
-
14.36
0.565
45.11
1.77
G
3 3/8
45 1/4
-
5
5 1/4
14.45
0.569
45.40
1.79
G 1/4
3 1/2
-
14 1/2
-
-
14.56
0.573
45.74
1.80
G 1/2
3 5/8
-
-
6
-
14.65
0.577
46.02
1.81
H
3 3/4
46 1/2
-
-
6 1/2
14.86
0.585
46.68
1.84
H 1/2
4
-
15
7
-
15.04
0.592
47.25
1.86
I
4 1/4
47 3/4
-
-
7 3/4
15.27
0.601
47.97
1.89
I 1/2
4 1/2
-
15 1/4
8
-
15.40
0.606
48.38
1.90
J
4 5/8
25
15 1/2
-
9
15.53
0.611
48.79
1.92
J 1/4
4 3/4
-
-
-
-
15.70
0.618
25.32
1.94
J 1/2
5
-
15 3/4
9
-
15.80
0.622
25.64
1.95
K
5 1/8
25
-
-
10
15.90
0.626
25.95
1.97
K 1/4
5 1/4
-
-
-
-
16.00
0.630
25.27
1.98
K 1/2
5 3/8
-
-
10
-
16.10
0.634
25.58
1.99
L
5 1/2
51 3/4
16
-
11 3/4
16.30
0.642
51.21
2.02
L 1/4
5 3/4
-
-
-
-
16.41
0.646
51.55
2.03
L 1/2
5 7/8
-
-
-
-
16.51
0.625
51.87
2.04
M
6
52 3/4
16 1/2
12
12 3/4
16.71
0.658
52.25
2.07
M 1/2
6 1/4
-
-
-
-
16.92
0.666
53.16
2.09
N
6 1/2
54
17
13
14
17.13
0.674
53.82
2.12
N 1/2
6 3/4
-
-
-
-
17.35
0.683
54.51
2.15
O
7
55 1/4
17 1/4
14
15 1/4
17.45
0.687
54.82
2.16
O 1/2
7 1/4
-
-
-
-
17.75
0.699
55.76
2.20
P
7 1/2
56 1/2
17 3/4
15
16 1/2
17.97
0.707
56.45
2.22
P 1/2
7 3/4
-
-
-
-
18.19
0.716
57.15
2.25
Q
8
57 3/4
18
16
17 3/4
18.35
0.722
57.65
2.27
Q 1/2
8 1/4
-
-
-
-
18.53
0.729
58.21
2.29
Q 3/4
8 1/2
-
18 1/2
17
-
18.61
0.733
58.47
2.30
R
8 5/8
59
-
-
19
18.69
0.736
58.72
2.31
R 1/4
8 3/4
-
-
-
-
18.80
0.740
59.06
2.32
R 1/2
8 7/8
-
-
-
-
18.89
0.748
59.34
2.35
R 3/4
9
-
19
18
-
19.10
0.752
60.00
2.36
S
9 1/8
60 1/4
-
-
20 1/4
19.22
0.757
60.38
2.38
S 1/4
9 1/4
-
-
-
-
19.31
0.760
60.66
2.39
S 1/2
9 3/8
-
-
-
-
19.41
0.764
60.98
2.40
S 3/4
9 1/2
-
19 1/2
19
-
19.51
0.768
61.29
2.41
T
9 5/8
61 1/2
-
-
21 1/2
19.62
0.772
61.64
2.43
T 1/4
9 3/4
-
-
-
-
19.84
0.781
62.33
2.45
T 1/2
10
-
20
20
-
20.02
0.744
62.89
2.48
U
10 1/4
62 3/4
-
21
22 3/4
20.20
0.797
63.46
2.25
U 1/2
10 1/2
-
20 1/4
22
-
20.32
0.800
63.84
2.51
V
10 5/8
63
-
-
23 3/4
20.44
0.805
64.21
2.53
V 1/4
10 3/4
-
-
-
-
20.68
0.814
64.97
2.56
V 1/2
11
-
20 3/4
23
-
20.76
0.817
65.22
2.57
W
11 1/8
65
-
-
25
20.85
0.821
65.25
2.58
W 1/4
11 1/4
-
-
-
-
20.94
0.824
65.78
2.59
W 1/2
11 3/8
-
-
-
-
21.08
0.830
66.22
2.61
W 3/4
11 1/2
-
21
24
-
21.18
0.834
66.54
2.62
X
11 5/8
66 1/4
-
-
26 1/4
21.24
0.836
66.73
2.63
X 1/4
11 3/4
-
-
-
-
21.30
0.839
66.92
2.64
X 1/2
11 7/8
-
-
-
-
21.25
0.846
67.51
2.66
Y
12
67 1/2
21 1/4
25
27 1/2
21.69
0.854
68.14
2.68
Y 1/2
12 1/4
-
-
-
-
21.89
0.862
68.77
2.71
Z
12 1/2
68 3/4
21 3/4
26
28 3/4
22.10
0.870
69.43
2.73
Z +1/2
12 3/4
-
-
-
-
22.33
0.879
70.15
2.76
Z+1
13
-
22
27
-
22.60
0.890
71.00
2.80
Z+1.5
13.5
-
-
-
-
22.69
0.893
71.28
2.81
Z+2
-
-
-
-
-
22.92
0.902
72.00
2.83
Z+2.5
-
-
-
-
-
23.06
0.908
72.45
2.85
Z+3
-
-
-
-
-
23.24
0.915
73.01
2.87
Z+3.5
-
-
-
-
-
23.47
0.924
73.73
2.90
Z+4
-
-
-
-
-
23.55
0.927
73.98
2.91
Z+4.5
-
-
-
-
-
23.87
0.940
74.99
2.95
Z+5
-
-
-
-
-
24.27
0.956
76.25
3.00
Z+6
-
-
-
-
-